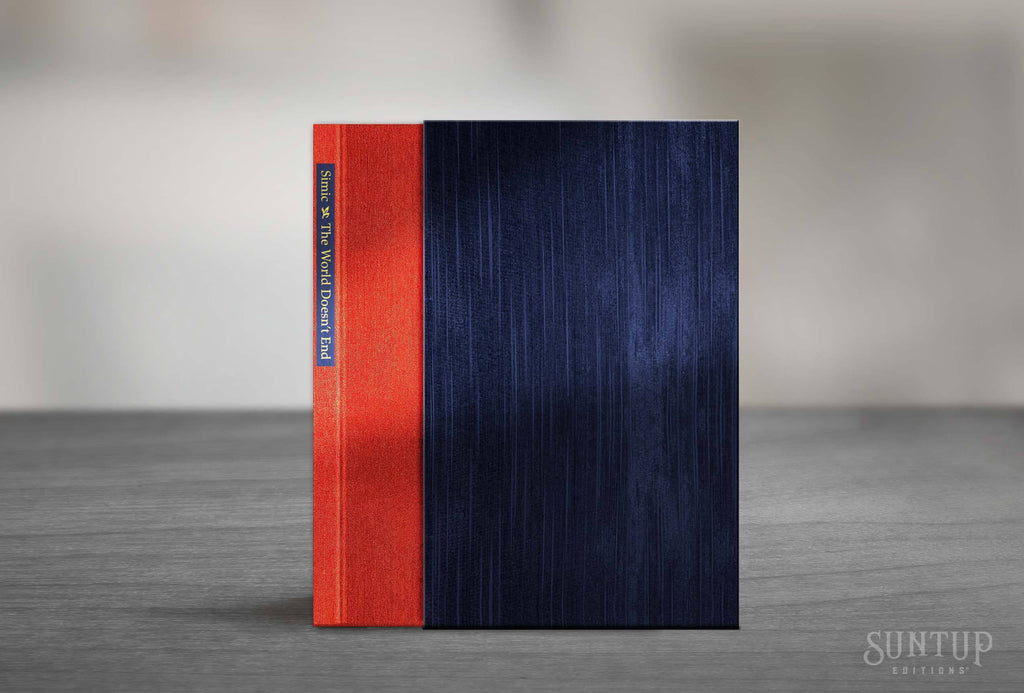 Regular price
$550.00 USD
Regular price
Sale price
$550.00 USD
Unit price
per
PLEASE NOTE: THE WORLD DOESN'T END does not include rights to a matching number or letter for our November 2020 book announcement. A SCANNER DARKLY will carry rights to the November 2020 book.
---
By turns funny and poignant, whimsical and down-to-earth, The World Doesn't End by Charles Simic is a Pulitzer Prize winning collection by a poet at the height of his powers. Simic masterfully constructs bizarre, unpredictable, and captivating visions in lyrical sentences that pile one incongruous turn upon another, building images that are full of surprise. Much like the river in one poem which flows backward, the power of Simic's inner world derives from turning logic on its head and taking a look from another direction.
Upon its release in 1989, The World Doesn't End was lauded by critics and colleagues. Publisher's Weekly raved, "A master of the absurd and the unexpected, Simic presents a collection of prose poems that will not fail to amuse and delight." The Washington Post called it, "A beautifully designed box of verbal fireworks… a seamless fusion of wild jazz and delicate, moonstruck, European chamber music. Young poets everywhere should read it attentively."
---
The signed limited edition of The World Doesn't End by Charles Simic is presented in two states: Lettered and Numbered editions. 
---
NUMBERED EDITION
6" x 9" trim size.
77 Pages.
Limited to 150 copies.
Full Japanese cloth binding.
Leather foil stamped spine label.

Four full color images by Wendy Mark.
Signed by Charles Simic and Wendy Mark.

Printed letterpress with two color throughout on Teton.
Endsheets are Hahnemühle Bugra.
Housed in a Japanese cloth covered slipcase.
---
Published editions may differ slightly from mockups and prototype designs.
Artwork © 2019 by Wendy Mark.


View full details
Sentence yourself.
In my opinion, this is one to buy and hold (and not to flog, ever). Heirloom stuff (even if you have no heirs - leave it to the local library). A deeply personal offering from the founder .. and it's a letterpress people, a Pulitzer Prize-winning prose stylist in letterpress. And he signed it. This is no simple undertaking. And offered at the price of a popular AGE? It really doesn't matter if we understand it or not - read a few pages aloud to yourself every night; it is not written (only) to be understood. Memorize the lines that move you. Sentence yourself, and over time these sentences will stay with you, even when the lights go down (anyway, long after you've forgotten or no longer care about the sexy eye candy). They will take you home. Ok, my work here is done. Praise be.
The World Doesn't End
Clean, beautiful, well-constructed book. I know it sounds odd, but the book fits the slipcase better than any other book I have bought. It's pretty awesome. Look forward to purchasing more from this book artist/printer.
Beautiful
Another beautiful book from Suntup Press. Everything from the paper to the typeface to the cloth used in the binding and the slipcase work so wonderfully together, and perfectly complement the poetry and artwork.
A lovely letterpress edition from Suntup!
Gorgeous book as always
The book is beautiful and well constructed. I wouldn't expect anything less from Suntup!
Choosing a selection results in a full page refresh.
Opens in a new window.